Last week, I posted that I had found all 3 brush sets by SOHO for their Fall 2015 Disney Villains collection. For first impressions and more basic info, please check out that post.
***Scroll to the bottom of the page to read an overall summary of the review and skip the fine detail.
Each brush set is targeted for a different set of make-up needs. Ursula is the only one that came with 4 brushes, as both Maleficent and the Evil Queen only had 3 brushes; I'm thinking the reasoning behind that is that Ursula's brushes are smaller.
As you can see in the picture above, the brushes in the Maleficent set and the Evil Queen set look skewed inside and that's because they are.
To make matters worse, the brushes weren't just out of sync with the packaging, but they were actually stuck to their inside cardboard piece like that. Let me just say, that the picture above shows how the ends of the brushes look when they are out of the package. Those little circle on the ends of them are glue and that's what keeps them contained inside the box. They are not easy to take out and the glue stays on the bottom. The glue cannot simply be taken off either and they'll need to be washed to get it removed.
So, with packaging issues aside, I'm going to breakdown the brush sets and I feel these are fairly nice. They all have soft bristles that are made of "nylon fibers", in other words they're synthetic fibers. I have had no problems with shedding of the bristles when applying make-up. There was slight shedding with some of the bigger brushes when washing, but nothing too bad. There was no color fading when I washed the brushes either. The handles on these brushes are a little shorter than the average handles of a typical make-up brush which makes them great for traveling, but not necessarily the best for every day use if you prefer longer handles.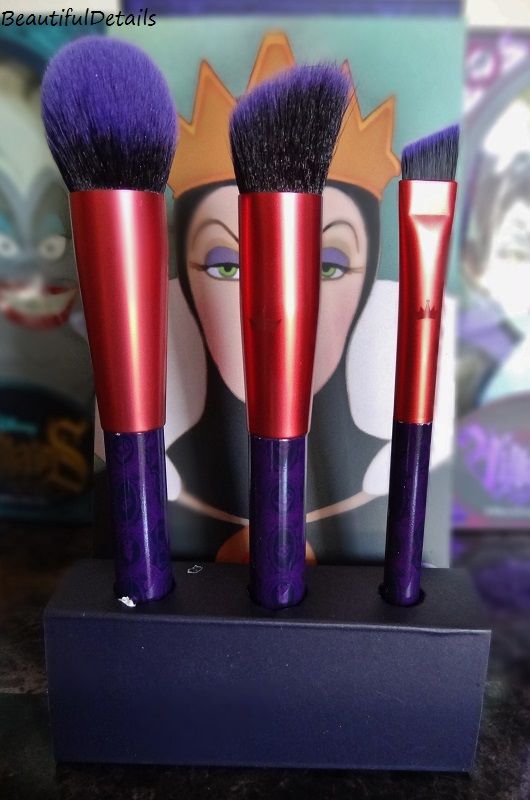 [
SOHO Evil Queen brush set
]
The Evil Queen brush set was focused on the basics of the face. The brushes in this set are all super soft and feel nice on the face.
All Over Face Brush - use to apply powders to the face
Curved Foundation Brush - use to apply liquid/cream foundation; wide base easily covers large areas; pointed tip easily covers hard-to-reach areas
Angled Brow Brush - use to shape brows; pointed end accurately draws on shape; wide base fills in the brows
The All Over Face Brush is a nice brush, but a bit small for my liking when it comes to applying setting powder. The full description does suggest using it for all powders and that includes bronzers, blushes, and loose/powder foundations. This brush applies bronzers and blushes well, but if full coverage is desired for foundation I would not recommend this brush as it's small and only dense on the tip. It's a nice brush for buffing out contour as well.
The Curved Foundation Brush does apply liquid foundations, but it's a bit too small for my liking. Since the brush is a bit small it takes longer than necessary to apply foundation. However, this brush works well at applying creams or liquids to smaller areas of the face or in a concentrated amount. Again, depending on the type of production you're using, this brush would work well for contouring too.
The Angled Brow Brush has the opposite problem of the other two, because I find this brush a bit too big. I personally prefer that eyebrow brushes be on the slimmer side, because it makes it easier to shape the brows. I feel this brush isn't horrible for shaping brows, but I'd suggest using another brush if you have it. I feel this brush works best at applying powders to the eye area.
[SOHO Maleficent brush set]
Maleficent's brush set was focused on the accents of make-up application. Her brushes are all about the contour and finishing touches. This fits well with the theme of how Maleficent is being portrayed today after Angelina Jolie portrayed her in the live action "Sleeping Beauty" movie. However, before then, I don't really recall Maleficent being the face of contour. Anyway, I felt the brushes in this set were nice, but not for the purposes intended.
Stippling Brush - use to apply contour powder
Angled Blush Brush - use to blend out harsh contour lines
Concealer Brush - use to apply concealer to the face
The Stippling Brush is a decent size for contour, but I've never been a huge fan of using stippling brushes for contour, because I usually use powder. I feel that stippling brushes are best used for liquids and creams. Even with all that said, I still would prefer an angled brush for contouring. I would recommend this brush for liquid foundations and for applying liquid products in small targeted areas of the face.
The Angled Blush Brush can indeed be used to blend out harsh contour lines, but I feel it works better for applying blush or the contour powder itself.
The Concealer Brush is okay for concealer, but I prefer to use it to apply shadow to the inner corner of my eyes and on areas of the eye or around the eye that need little detail. I personally feel this brush is too thick at the tip and the bristles are not long enough for concealer.
Ursula's brush set was all about the eyes and it suits her. Ursula's character is based off of the drag queen known as Divine and drag queens are all about over-the-top eye looks! This is the only set that had 4 brushes instead of 3, but like I said earlier, I believe it is because each brush in this set is smaller and uses less fibers than the face brushes.
Eyeshadow Brush - use to apply base eyeshadows
Crease Brush - use to apply depth and dimension to the eyes
Pointed Eyeliner Brush - use to apply liquid or cream eyeliner
Angled Smudge Brush - use to blend eyeshadow or soften lines
The Eyeshadow Brush is a bit big, but it does well to apply all over color or a base, as the description says. Those with smaller lids may not find much use for it outside of that. I also think it does a nice job at blending out colors.
The Crease Brush works fine for the crease and the outer-v of the eye, but it should not be confused with a blending brush. This is a narrow brush that works well at applying concentrated color directly into the crease or on the outside of the lid/eye. It works well for applying shadow to the eye, also.
The Pointed Eyeliner Brush is not an eyeliner brush. It's more of a very skinny blending brush. It's way too thick and big to be an eyeliner brush. I would use this brush to blend out color on small areas of the eye or to smudge color since it is dense.
The Angled Smudge Brush is more of an angled blending brush and works well for that. It can also be used to apply shadow to the eye in a sheer/light form.
Final Verdict
These brushes are good, but not great. They work well for traveling since the handles are shorter than the average brush handle and would make them easier to pack, but if you prefer longer handles for daily use then they might get annoying. Most of the brushes are good for multiple uses, so again they would come in handy for traveling and would even be helpful for daily use. The bristles are all soft and there's no shedding when applying make-up. I have experienced slight shedding with the a few of the face brushes when washing, but only a few bristles each and nothing too bad. There was no color fading when washing the brushes. However, these brushes are a bit overpriced to me. They're sold for $9.99 and if compared to what's on the market in both the drugstores and the high end spectrum, these feel a bit cheap to me. The handles feel like cheap plastic and the ferrules are also not very thick. If they knocked off a few dollars for each set I would say they would be right in line with the current market. If you're a collector, you'll definitely want to pick these up. If you're looking for multi-tasking or traveling brushes, these may be for you as well. However, for the more experienced, I'd suggest saving your money as it can be better spent. I'd recommend buying these brushes on clearance if you can catch them at that price.