I bet you thought I dropped off the face of the beauty blogging world again, didn't you? Well, that's not entirely true. I started a new blog. It's a toy/collectors blog. I'm a huge collector and decided it would be a good idea to share my collections and adventures in collecting! However, getting that blog started, while juggling life, took a minute and I had to neglect this blog. Now I'm back! If you are into collecting or just curious then feel free to check out my new blog- The Glittery Toy Box. No pressure though, really.
Quick *Me* update: So, aside from making a new blog, I also accepted a new position at work and that has kept me busy as well. I went on vacation for a couple of weeks out of state to see my family on the other side of the country and I've also been traveling through California the past couple of months, so I've been busy and living it up this summer! I'll work harder on getting more entries up on this blog, but since it's normally pretty quiet around here, I don't think it's too much to worry about......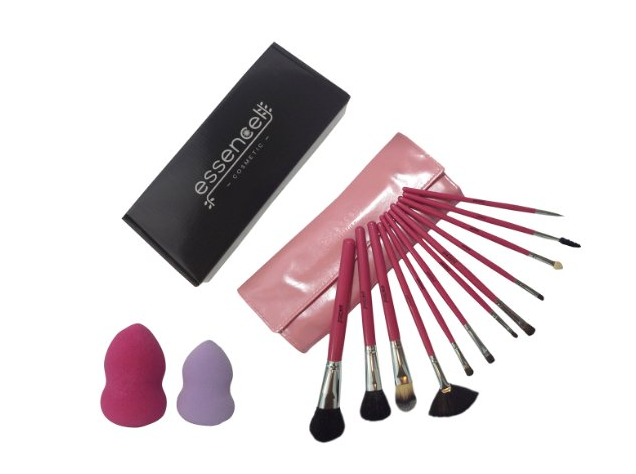 [
Photo Credit: Essencell Amazon Store image
]
Today, I'm reviewing the Essencell brush set in Pink. This brand has been around for a few years, but this is the first time I've ever bought anything from this company and I just heard about a few months ago.
FYI- I'll just say this right now before I go any further: Some of these brushes are made with real animal hair. If you're against natural hair brushes/products than these are not for you.
[
Feel free to scroll down to the bottom for a summary if you're short on time or don't want to read the fine details.
]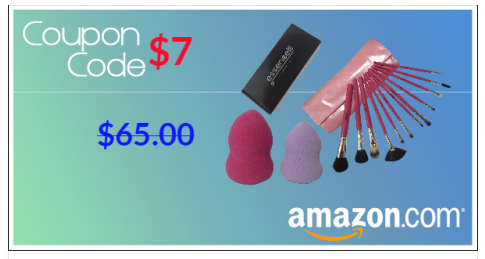 [
Photo Credit: Facebook Ad
]
I was scrolling through Facebook when I saw this ad for a brush set that was only $7 with a coupon code. Obviously, as a make-up enthusiast, this caught my eye and peaked my interest.
[
Photo Credit: Essencell Coupon Page
]
When I clicked the ad it took me to a site not connected to Facebook. Now, at this point I was a little skeptical. The web page the ad took me to looked a little sketchy and a 12 piece brush set, plus case, and 2 sponges for only $7 seemed a little too good to be true. My thoughts were either this was a scam or these brushes were awful. When I clicked "get my coupon deal" it only asked for my email. It did not ask for anything else, which was a bit of relief. Almost immediately my email inbox had a code from the company and directions on how to go to their Amazon.com store and redeem the code. -That seemed easy enough, but I still felt like there had to be strings attached. Only $7??? I thought maybe there would be some add on fees or something else - or the brushes were just really bad, that still was in my mind too. Before checking out their Amazon store, I looked on their Facebook company page which had not been updated since 2014 and that did not help my negative feelings at all. Never the less, I still went to Amazon and saw their products. They only had brush sets and they came in multiple colors- Black, Coffee (bronze colored), Purple, and Pink. The deal only worked for the pink set though, so I had no choice in color, which is fine with me. I like pink and for $7 I won't be picky. The final test came when I went to the checkout on Amazon. I entered the code on the billing section and indeed the price dropped down to $7.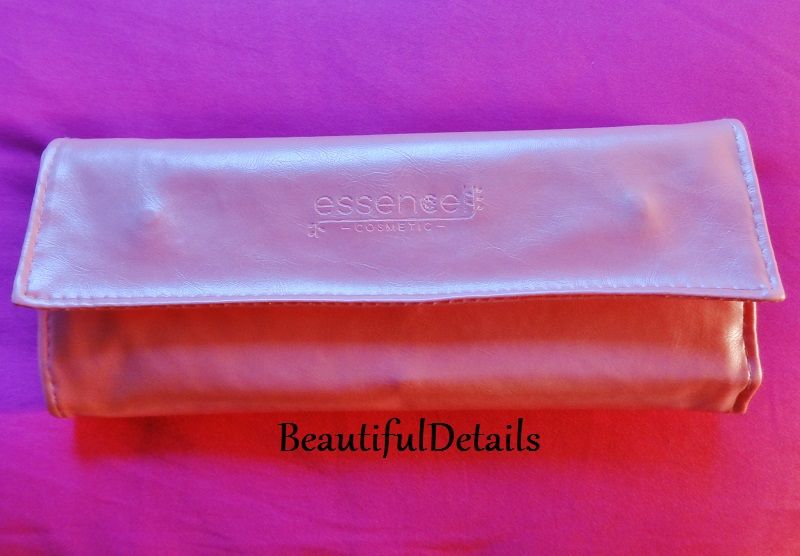 It took less than a week for the brushes to arrive. The brushes come in a pleather roll-up case. The case is thin, but I have traveled with it and it seems to do fine.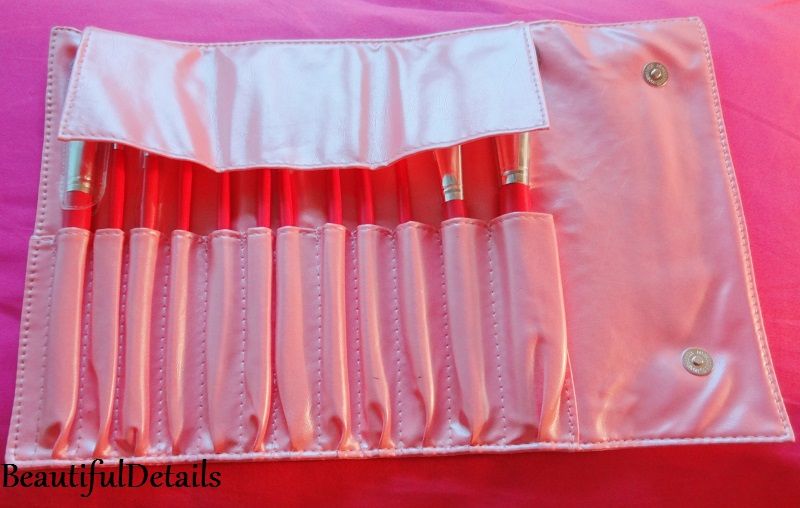 When you open the case you will see that case comes with an extensive inside flap to protect the brushes. As you can see, the case is a baby pink, but the actual brush handles are a raspberry pink.
Above are the brushes. Some of them come with guards. The inside is a typical brush roll and the brushes are displayed well. The website states the names for the brushes, from left to right:
Blush Brush
Mascara Brush
Fan Brush
Smudger Sponge
Angled Eyebrow Brush
Lip Brush
Smudger Brush
Eyeliner Brush
L-Eyeshadow Brush (large)
S-Eyeshadow Brush (small)
Foundation Brush
Powder Brush
Left to Right: Smudger Sponge, Mascara Brush, Eyeliner Brush
I'm going start the in-depth part of this review with 3 brushes that I consider pointless. In my opinion, you really are getting 9 brushes and not 12.
Smudger Sponge [material - sponge]: What Essencell calls a "Smudger Sponge" is really just your typical sponge applicator that you can buy at any drug store or even off of Amazon for pretty cheap. It's not necessary to include this in a brush set, especially one that a company considers "professional". These sorts of brushes will wear down fast and you'll end up tossing it. The quality of this sponge is no better than something one would get included in a Maybelline eyeshadow bought at a drug store.
Mascara Brush [material - plastic]: Again, Essencell has done a good job at trying to make a brush seem better by renaming it, but any make-up user will know this is just a Spoolie and while it can be used for mascara, it is more typically used to brush out your eyebrows and distributing color to the brows. Again, it's not necessary or essential to include this brush in a "professional" brush set and these types of brushes are very easy to obtain.
Eyeliner Brush [material - pony hair]: Unfortunately, this brush does not work well for eyeliner, especially for a gel liner. If you're using a powder liner or shadow for liner then you'll have a little bit better luck, but I do not find myself reaching for this brush at all. I'm also not a huge fan of natural hair brushes for liner.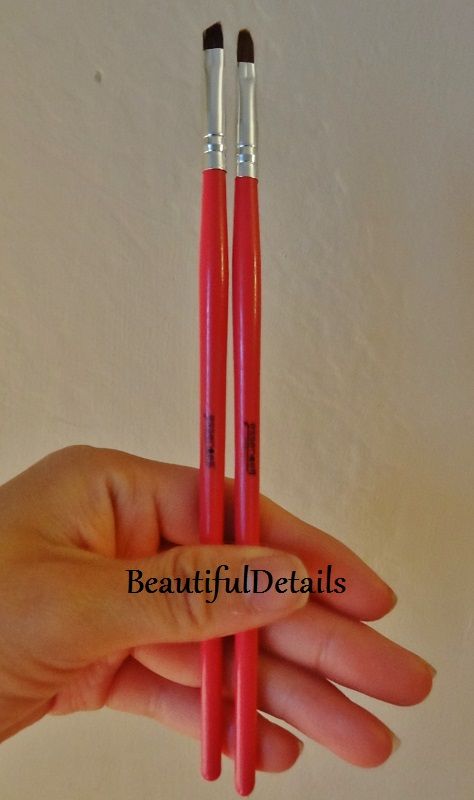 Left to Right: Angled Eyebrow Brush & Lip Brush
Angled Eyebrow Brush [material - pony hair]: The eyebrow brush is just okay. It can be used for multiple purposes, although most brushes can be. I don't find myself using this brush a lot and I do not use it for my eyebrow brush, as I have 2 others and that I prefer. When I do use this brush it is usually for smudging or applying eyeshadow at an angle.
Lip Brush [material - pony hair]: I have not used this brush on my lips. It's a bit think for my liking and for a substance like lipstick, I would prefer synthetic brushes most of the time. I have used it for touching up small areas of eyeshadow and in the inner corner of the eye, and it works fine.
Left to Right: Smudger Brush, S-Eyeshadow Brush, L-Eyeshadow Brush
These are the 3 eyehshadow brushes that come with the brush set. All are solid performers. All of these brushes are very soft and best used with powder shadows.
Smudger Brush [material - pony hair]: This is a nice brush. Depending on the eye look you're going for, you may or may not use this as a smudger. I find this to be a good smudger brush, but it is a bit on the thin side and so if you're going for a heavier or slightly wider area, you'll want to go with a different brush. It's great for the crease or defining/highlighting the brow area.
S-Eyeshadow Brush [material - pony hair]: This is the smaller eyeshadow brush and is a good, natural hair brush. It does what it should do.
L-Eyeshadow Brush [material - pony hair]: This is the large eyeshadow brush and again it is a solid performer. No issues.
Left to Right: Powder Brush, Blush Brush, Foundation Brush, Fan Brush
I'm going to finish with the 4 face brushes. These are very nice brushes that all work quite well.
Powder Brush [material - goat hair]: This brush applies powder nicely and I have no issues with it. It also works nicely as a clean brush to smooth out contour and other facial cosmetic applications, as it's not super soft; I personally don't find it scratchy though.
Blush Brush [material - goat hair]: Works well for blush. It's a bit stiff, which is good if you have stiff product or a harder product to work with. If you're in a pinch, I have found this brush can work for loose foundation.
Foundation Brush [material - synthetic]: The best brush in the whole set! Performs and works really well. Applies cream and liquid foundations great!
Fan Brush [material - synthetic]: This is a typical fan brush. Not much to say other than it does what it is suppose to.
Here's a look at the two sponges included with the brush set. On the left is a pink sponge that is a bit stiffer than it's counterpart and would be best compared to a Beauty Blender, although it is not quite like it. The pink sponge does not expand in water. After washing it once, I noticed that some of the pink color ran out with the make-up. It also became a bit less stiff and coarse after washing it, so I would recommend washing it before using it.
The purple sponge on the right is a much softer material than the pink one. It's more of a foam feel. It is not meant to be wet in use. When wet it does expand, but it also becomes malleable and useless.
To me, these sponges are quite average and similar to anything you can get in a drug store like from the brand Soho.
Final Verdict
For $7, this brush set way out performs it's price! However, the brush set is normally $35.69. Is it worth $35+? Not in my opinion. Again, I feel like you really only get 9 brushes. Even with the consideration that they throw in 2 sponges, those sponges are not superb quality and you can buy those in a drug store for a decent price. I enjoy the these brushes and they are natural hair, but they are not exceptional to me. For the most part these are just okay. If you can catch these brushes on sale or if you could get the $7 deal if it comes up again, I would definitely go for it, but in my opinion what you're really paying for is the natural hair and pony hair is not the best for cosmetic brushes. I feel these are worth $25 at the most as a set. For a set that performs average to slightly below average, I would look at other sets that are around the same price or less. It is even worth it in some cases to pay a little more for a very nice upgrade.
FYI: These are currently on sale at Amazon for $28.97 with Amazon Prime shipping if you have a Prime account. Also, if you go to Essencell.net and sign up for their mailing list you will get a $10 discount code in your email that expires 30 days after they have sent it. They constantly have sales on their Amazon page, so just keeping checking often if you'd like to try these out.
Let me know if you own these or if you do buy them. I'd love to hear what you think about them.