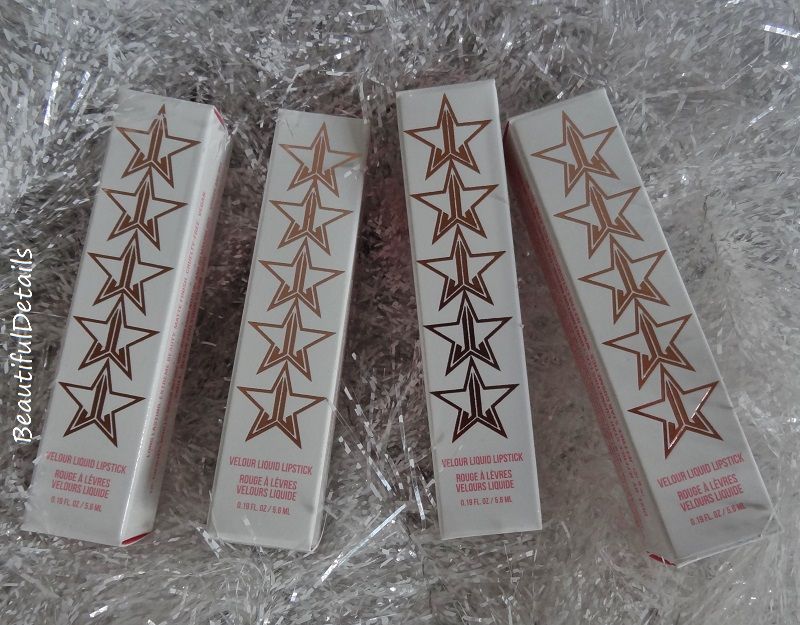 It's been quite a busy time for me these past few weeks with the Holidays coming to an end, dealing with some family issues and work. I've not had as much time to blog or even rest, but here I am coming with a new review just in time for the holidays! I have the Velour Liquid Lipsticks from Jeffree Star Cosmetics' holiday collection!
***
Scroll to the bottom of the page to read an overall summary of the review and skip the fine detail
.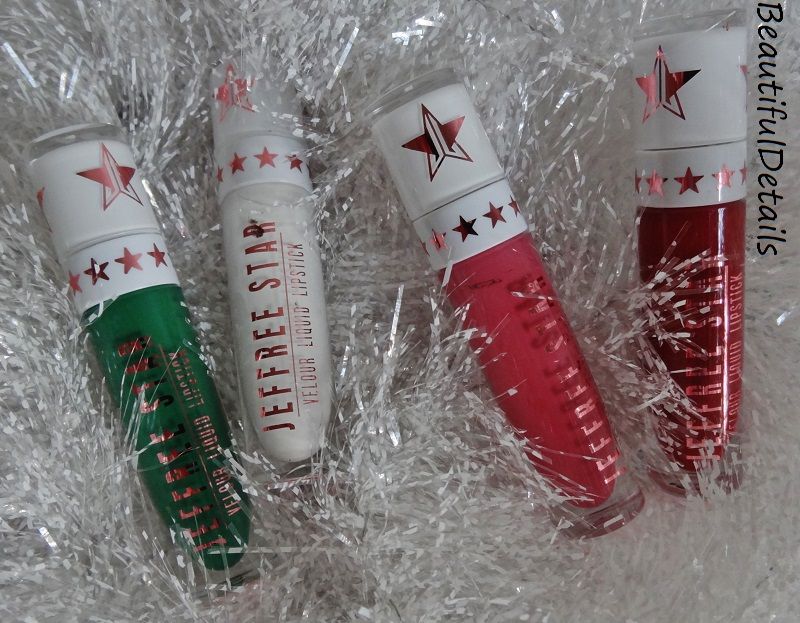 For those who may not know- Jeffree Star Cosmetics is an indie make-up company started by pop star, Jeffree Star. His launch of liquid-to-matte lipsticks, called Velour Liquid Lipsticks, have been a smash hit in the beauty community and are now sold at Beautylish and Morphe! The company has only been around for slightly over a year now since they launched on Black Friday of 2014 and this is the first holiday collection for the brand!
[
left to right: Ho Ho Ho, Mistletoe, Drug Lord, Doll Parts
]
There were 5 lipsticks originally released exclusively for the holidays. I was only able to get my hands on 4 of the 5, but best believe I tried my hardest to get all of them! The first time they were released I was at work, so I wasn't able to get my hands on them. The next release, I was only able to get 4 of the 5 and the final release sold out so fast that I failed to get the "Androgyny" which was the last shade I needed. But the show must go on! Each lipstick was $18 and that's the regular price of these Velour Lipsticks. The packaging was specially made white with rose gold accent, which differs from the normal bright pink packaging with gold accent.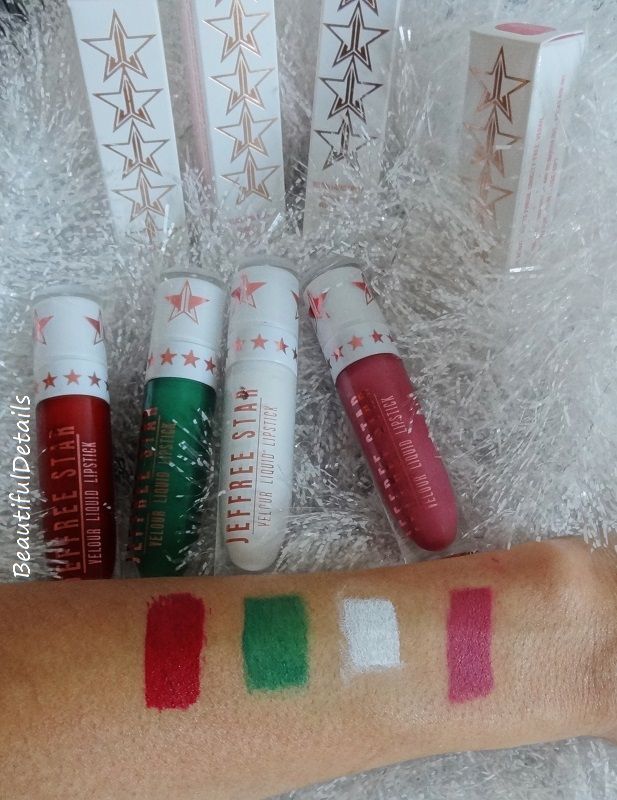 [
swatches of the Jeffree Star Cosmetics Holiday Collection
]
Left to Right
Ho Ho Ho
Mistletoe
Drug Lord
Doll Parts
[
shade: Ho Ho Ho in natural light
]
"Ho Ho Ho" is described as a "fierce, deep toned red with hints of metallic red and purple". My personal take is that it's a deep, berry red with tiny flecks of purple and red glitter. I tried my hardest to capture the glitter, but to no avail, I could not get it to show up with my camera and using the flash didn't help either. Even when the lipstick is on the lips it is hard to detect the glitter, which is nice for those who are not into glitter and shimmer. However, I'm a fan of glitter make-up and I was hoping to finally have a liquid lipstick that had glitter in it, but this was not the case. It's a beautiful red and perfect for the holidays, but not the most unique or special color out there. If there was one color to skip in this collection I would say this is it, just because there are so many red lipsticks out there and most of us have one similar or probably an exact dupe. I almost skipped on this one at first, but when I couldn't get Androgyny I said "what the heck!" and bought it anyway. I certainly do not regret buying it though and I will wear the heck out of it! The color performs well and lasts me a good 8 hours if I'm not eating or drinking. This shade is super pigmented and only needs 1 layer for opaque coverage.
***I have the original red shade released from this collection that's called "Redrum" and I can personally vouch that "Ho Ho Ho" is much more cool toned and much deeper of a shade!
[
shade: Mistletoe in natural light
]
"Mistletoe" is described as "true Christmas tree green matte". It is definitely a matte green, but when I think of a Christmas tree I think of a dark green or an evergreen color. To me this is a true green. I love it! I know LA Splash has made green shades of matte lipstick before, but I'm not a fan of that company. To me, this is the first real green liquid lipstick on the market and of course only Jeffree Star is bold enough to go there! I sincerely am thrilled with this color and will be sad once it runs out, since it is limited edition, but I keep hope that it will make a comeback one day. This shade lasts pretty well. The most I have worn it without touching it up is 4 hours, but I did eat food at these times. Food will always wreck liquid lipstick, especially if it's oily. I personally experienced this shade to be well pigmented, but still needs about 2 or 3 layers for full coverage.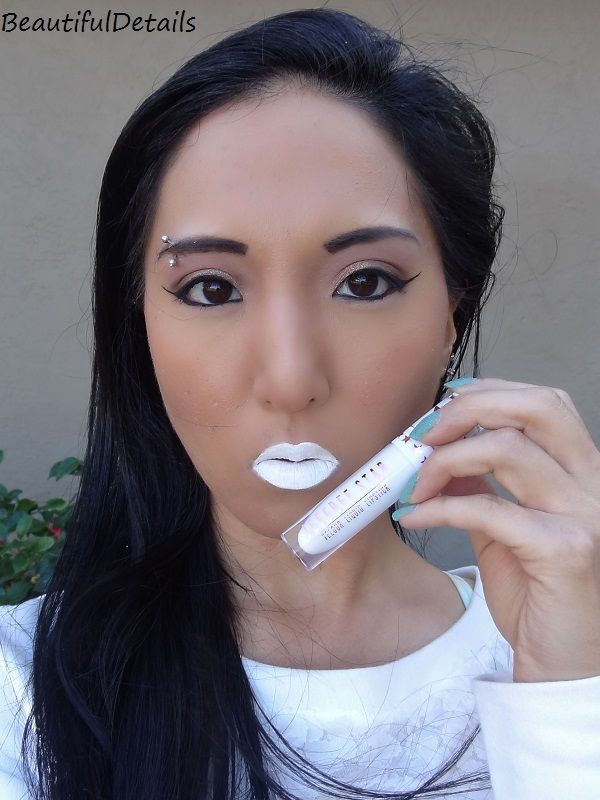 [
shade: Drug Lord in natural light
]
"Drug Lord" is described as a "matte white" and that's exactly what it is. This is the first ever matte white liquid lipstick on the market and while some shied away from it because of it's bold nature, I couldn't get my hands on it fast enough! I saw the sneak peaks over the summer from Jeffree Star's Instagram and from that moment I eagerly awaited it's release! There's so much one can do with a pure white lipstick! Everything from using it as a mixer to cosplay options - this was definitely something I needed in my make-up wardrobe. Because of its light-colored nature, it does take about 3 layers to get it opaque. I found it best to wait until this shade dries completely before adding more layers. A great tip for this shade and other lighter shades is to pat on color in areas that need more coverage rather than continuously slathering on more layers all over, as this will give a smoother finish and waste less product. Drug Lord will emphasize any dry patches or dead skin on the lips, so exfoliating to the fullest is a must with this lippie! Once this white has dried, it stays put! I hope Jeffree Star Cosmetics will release this again in the future, because when I run out I will definitely want more! In my personal opinion, this should be part of the permanent collection.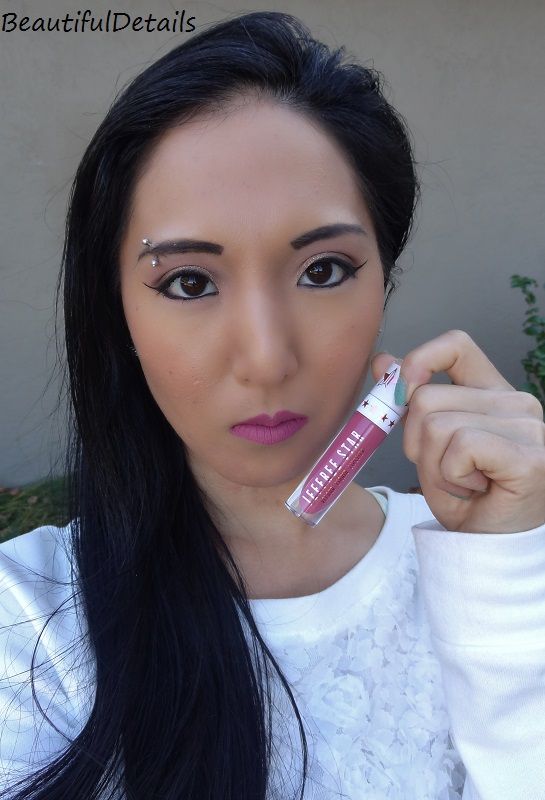 [
shade: Doll Parts in natural light
]
"Doll Parts" is described as a "cool toned pink". It is cool toned, but I was surprised at how mauve it is when I received it. All of the pictures on Instagram made this shade look much pink-er than it really is. I do have quite pigmented lips, which would help deepen the shade, but this in itself is definitely more of a browned pink, aka mauve. I do like it and it's great for an every day color. I have found myself wearing these to work parties I've attended with my finace, since it isn't too flashy for those black tie moments, but it doesn't have much of a holiday feel. It seems more like something that would be a regular release for this company, but it is still a nice shade. It's very pigmented and only needs 1 layer for opaque coverage! It stays put after drying and dries fast. Minimal touch-ups are needed.
Final Verdict
I have never been disappointed in Jeffree Star Cosmetics' Velour Liquid Lipsticks. The formula speaks for itself! They are pigmented and creamy. They do not dry out the lips and they stay put for up to 8-12 hours. They dry down matte like they're suppose to and look amazing. Not to mention the unique colors they come up with! - As for the holiday collection. I think it's a great first go at a holiday collection. It was a bit frustrating with the online ordering and the limited supply versus the number of people who tried to buy these. Even with the lipsticks being sold on 2 other sites it was still hard to get! However, that's the only bad thing I can say about the collection. The lipsticks themselves are all greatly pigmented and perform like champions! The only question you should have is: What color do I want?
Androgyny Update- It was announced on the final release date of this collection that Androgyny will be a permanent shade in the collection after so many were bummed that they could not get it and it sold out so fast! It will return in February 2016 in the regular pink and gold packaging. I will definitely be trying to get my hands on it!
Doll Parts update- It is a rumor as of right now that Doll Parts may be part of the permanent collection in the future. No dates or a future release have officially been announced, however.
Stock Update
As of right now all holiday shades are sold out on JeffreeStarCosmetics.com. Drug Lord & Doll Parts are still listed on the site, despite being sold out. Mistletoe and Ho Ho Ho have been removed.

Beautylish still has Mistletoe in stock. All other shades are out of stock, but still listed.

Morphe still has Mistletoe in stock. Doll Parts and Ho Ho Ho are out of stock, but still listed. Drug Lord has been removed from their listings.
Tarte Amazonian Clay 12-hour Full Coverage Foundation - foundation

MAC Prep + Prime Skin Smoother - face primer

Too Faced "Shadow Insurance" - eye primer

Tarte "Tarlette Palette" - brows

Too Faced Chocolate Soleil Matte bronzer - contour

MAC "Ocean City" - blush

Too Faced Chocolate Bar "Salted Caramel" - crease color

MAC Electric Cool eyeshadow "Super Watt" - all over lid color

It Cosmetics Naturally Pretty palette "Love" - upper crease blend color

It Cosmetics Naturally Pretty palette "Pearl" - inner eye color

Tarte Tarlette Palette " Best Friend" - outer corner and crease color

Tarte Clay Pot Liner "Black" - upper lid liner

Tarte Lights Camera Lashes Closeup Liner - bottom lash liner

It Cosmetics Hello Lashes - mascara

Tarte Lights Camera Lashes Statement Mascara - mascara