Pardon my 2 and 1/2 month blog break. It was unintentional. Between the holidays, being sick on and off, and then having inventory at my work, I was super busy! I'd like to report that I am fully recovered from the holidays. Though I was sick just this past weekend (the weather here is being crazy!), I'm on the mend! I'm feeling much better and though the weather can't make up its mind, it is getting warmer here -slowly! I also am happy to report that hard work pays off! Though my job spent a month and half preparing for inventory at my work, we did indeed improve from last year and were successful overall! So, now I'm ready to get back to blogging! I was very happy in accomplishing my goal in 2015 for blogging more than I did in 2014. I even started 3 other blogs! I want to blog even more in 2016 than I did in 2015 and I know I'm off to a rough start, but it's not too late! I'm going to catch up now!
I'm starting my 2016 blogging with a review from The Lip Bar. The lipsticks I'm reviewing are from their 2015 Holiday Collection. Unfortunately, the shades are not available anymore, but I feel this company needs more recognition! This is not my first Lip Bar purchase. I first heard of The Lip Bar on Hautelook a couple of years ago. I ordered some lipsticks in some unique colors. Most of those colors are discontinued now, but I love them. I may do a review with those later on.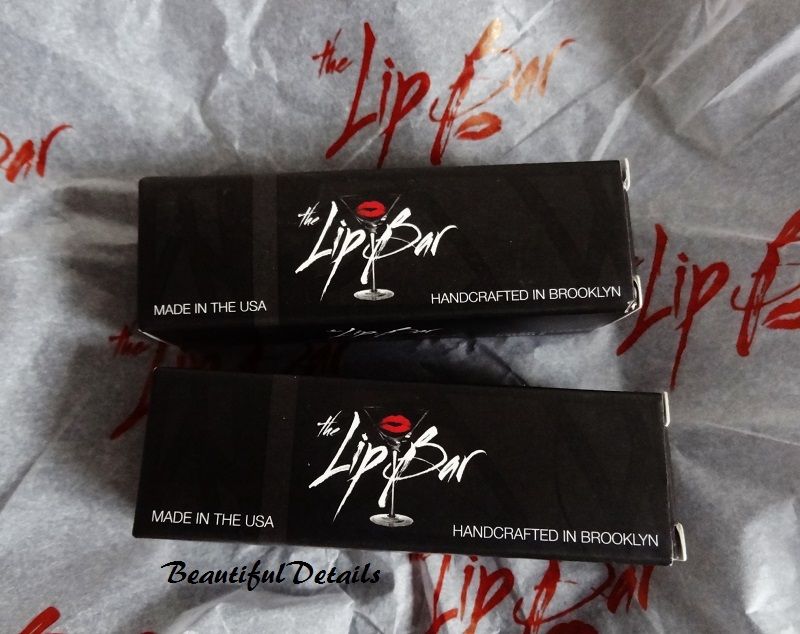 The story of The Lip Bar is amazing! The company is founded by Melissa Butler who was working in the corporate world of New York, but desired a more creative and colorful career. So, she started making lipsticks in her kitchen and now has a full line of lipsticks, lip glosses, and liquid lipsticks. The company also has a very cool truck that acts as a mobile shop! To top it off, she comes from my home state of Michigan! So, I have to try and support! - All the products are made to be vegan and natural, which is what initially drew me to the products. I am always in search of products that are natural and safer than what is normally found on the market.
[
left to right: Crimson Wonderland & Frostbite in natural lighting
]
Of the 2 lipsticks that were released this past holiday season, only 1 of them was actually new. "Crimson Wonderland" was actually released for the holiday season in 2014 and they brought it back in 2015. "Frostbite" was brand new for the 2016 holiday season. Both were released in November and I purchased them on a great Black Friday sale that they had! Originally, they were $25 a piece. I was able to purchase them for half off at $12 a piece. If you were lucky enough to catch their clearance price after the holidays they were $10 a piece! I just couldn't wait till the end of the holidays! To me, these just scream holiday party!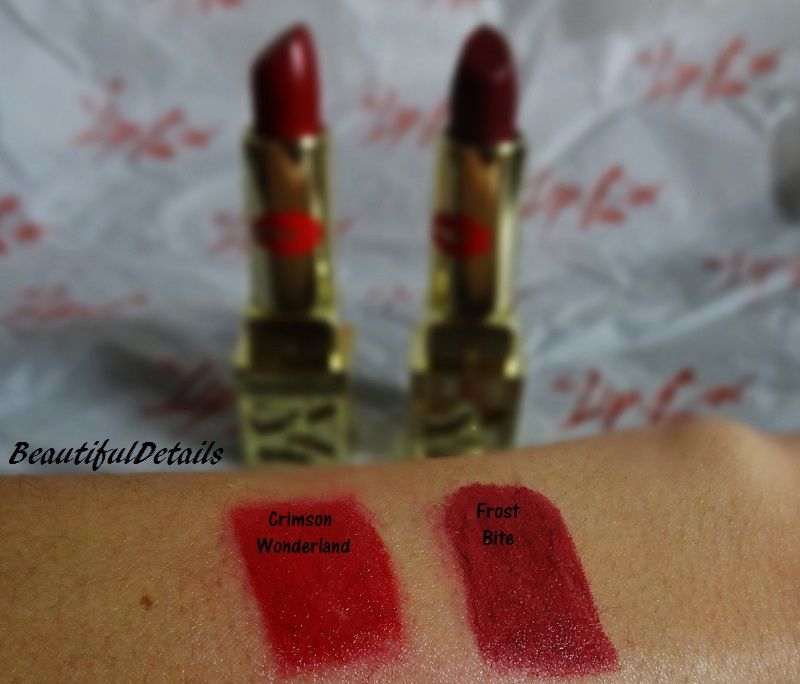 [
swatches left to right: Crimson Wonderland & Frostbite in natural light
]
Above are swatches on my arm of the shades in natural lighting and I think they are beautiful! They definitely are perfect for the holidays and very different from the company's normal lineup of bright and bold colors. These 2 are definitely more wearable and fit a lot of occasions.
[
wearing: Crimson Wonderland in natural light
]
Crimson Wonderland is described as: "The perfect holiday red" and is suppose to have a semi-matte finish. To me, this is a cool toned red with a blue undertone. I also found this shade to be more of a satin then a matte. I do love the color though! The pigmentation is beautiful. The formula doesn't dry out the lips and actually does give some moisture too. The Lip Bar lipsticks boast about their ingredients; besides being natural and vegan, they also contain Vitamin E and Coconut Oil.
[
wearing: Frostbite in natural light
]
Frostbite is described as "semi-matte plum". To me, this a berry red shade in a satin finish. Like it's partner, this lipstick offers some hydration to the lips and does not dry out the lips at all.
The packaging of these babies really sets them apart from other limited edition lipsticks released! The tubes look like the standard intricate design from The Lip Bar, but instead of having the matte black finish, they put these babies in a shiny gold finish. It was a nice touch. Not to mention the company has it's own tissue paper!
Final Verdict
The packaging and presentation is on point! I've always been impressed with how sturdy and beautifully designed The Lip Bar's packaging is for their lipsticks. The shades are beautiful, but honestly easily duped as well. What sets Crimson Wonderland and Frostbite apart are the fact that they're handmade and infused with good products for your lips. They're performance and pigmentation are great! The only issue I had with these is that they were advertised as a semi-matte and they're a satin at best. It's hard to have lipsticks be moisturizing and matte at the same time though. I'm personally fine with these not being semi-matte, because in the winter season I have problems with dry skin and lips and these help with that issue; I don't have to worry about having perfectly primed lips all the time when wearing them. Unfortunately, they're limited edition and the company is not making anymore. If you're interested I would wait until the holiday season, when I'm sure they will pop back up again and probably bring a new friend or two.
Update: I found that you can still purchase Crimson Wonderland here. It's at the full price of $25 and it looks like it's sold in the regular black packaging.