Normally, whenever I see a medical-looking cross, I get a queasy feeling. However, when it's colored pink and inside a heart, I feel elated! -It's the sign of a Sugarpill package!
I scroll through Instagram, daily -and by "daily" I mean like 4x's a day......sometimes more....... Anyway, as most of you beauty lovers know, Instagram is a great place for finding the latest news on cosmetics favorites! Sugarpill announced a knew limited edition eyeshadow coming out on their Instagram page and followed with swatches just hours later. The shade was called, "Pumpkin Spice", and it looked like metallic fall gorgeousness! The shade was officially released 2 days later only on their website and sold out by the end of the day. Trust me, I made sure to order mine the second it was announced. It was $12, which is the cost of a permanent Sugarpill pressed eyeshadow. While, I will say this was not the fastest selling item in history, like I said before, it did sell out by the end of the day.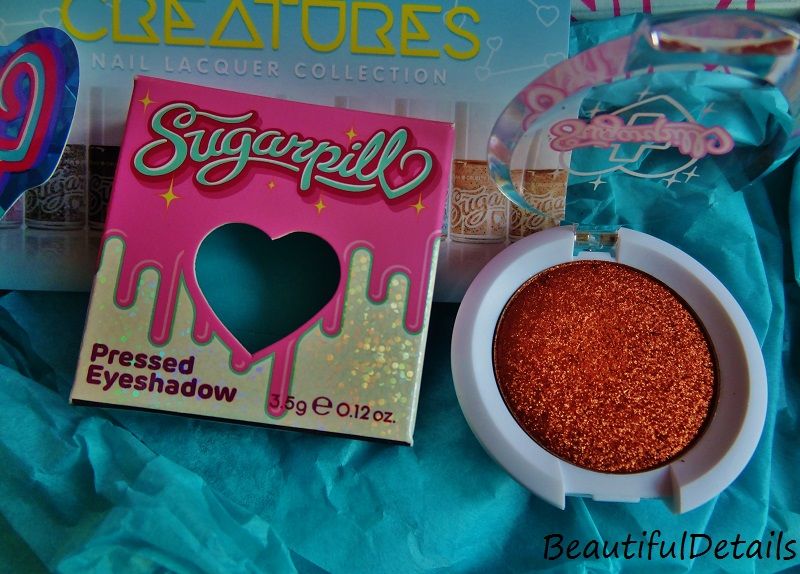 I ordered my eyeshadow on November 4 and it arrived November 12. In the past, when I have ordered from Sugarpill, my package arrived in less than 7 days. I'm not sure if this was due to increase in sales or the fact that most of their staff headed to Sydney, Australia for IMATS Sydney, but it was longer than usual to get my eyeshadow. However, it wasn't out of the ordinary long, so I can't really complain. I'll also note that in every order I have received I have always gotten a free sample of one of their loose shadows and this time I did not. Again, not really sure why.
[
swatched in natural light
]
The color swatches beautifully! The picture above is just 1 stroke! It is amazingly pigmented! The photo is in natural lighting.
Sugarpill describes the shadow as:
[A] shade of rustic copper foil with warm golden flecks in a super saturated, rich and creamy formula that applies like butter.
The description of the color is accurate. It is a deepened copper with gold glitter in it. Although when applied, the copper color appears a little lighter than in it's pressed form in the pan. The application is not exactly what Sugarpill says it is though.
[
lid color: Sugarpill's Pumpkin Spice
]
I don't want to scare anyone away from this shadow, because the application just needs a little tweaking. First off, this shadow is almost what I would consider a "foil" shadow, although it's not quite as smooth as a foil. The shadow lifts onto a brush in pieces and the pieces themselves are like foil, but because it isn't seamless I can't actually categorize this as a Foil. Sugarpill as a company calls this a "metallic" shadow, but they don't list it as a Foil either.
I recommend tapping off the access, because you will have some on your brush and not doing so may result in it falling onto the face. Next, I'd say this shadow is best pressed onto the eye first and then smoothed out. That's the method I found best in getting the best color payoff and being the most time efficient. Other than that, I have no complaints. Again, I don't think this shadow is unworkable, it just should be known that it doesn't apply quite like a regular shadow. In all fairness though, it's not a "regular" shadow. It is very much like foiled pieces pressed together with pigments and now just a powder.
The release of this shadow is odd to me, because it seems late. Not that November isn't still Pumpkin Season, but I feel like we could have gotten a lot more use out of this shadow (maybe even hit pan!) if they had released it in September or at least October. We're now heading into winter and the Holiday/Christmas season, so this rustic color is about to fade out of season. However, it's still beautiful and can still be used throughout the year, just depends on how one puts it to use. Sugarpill does list this as a "holiday" shadow, it just seems out of place in that sense to me though.
Final Verdict
This shadow is beautiful and unique. It's hard to find something quite like the formula or color on the current market and the fact that it's limited edition makes it even more appealing. Sugarpill delivers with it's super cute packaging, as always. The shadow is extremely pigmented and long lasting, even without a primer! I swatched the shadow on my arm and it took a bit of scrubbing to get off and there was no primer applied on it, although make-up remover takes the shadow off easily. The shadow isn't impossible to apply, but does not go on like "butter" as stated by Sugarpill; you need to pack it on and smooth it out after. Tapping off the excess before applying is also necessary, because the formula is chunky and lifts off on the brush in flecks. The formula itself is like foiled pieces melted together with pigments, which I find very unique. For $12 + shipping & tax, I feel it's a reasonable price. Anyone who is a collector will definitely want to pick this up. It's shimmery, but I honestly don't feel it's unwerable. This shadow could easily be used for every day use, as well as for special occasions. It would suit most ages too.
The shadow is currently "
out of stock
" on the website, but does state that you can join a mailing list to get notified when it will be back in stock. So, if you're wanting this shadow make sure that you get on the list and stay glued to Sugarpill's
Instagram
or
Facebook
!